Group Leaders: Catherine Wraith & Holly Craigs
CAP Money is a revolutionary money management course that teaches people budgeting skills and a simple cash based system that really works. This course will help anyone to get more control over their finances, so that they can budget, save and prevent unmanageable debt.
CAP Money is a course devised by the award winning debt counselling charity Christians Against Poverty.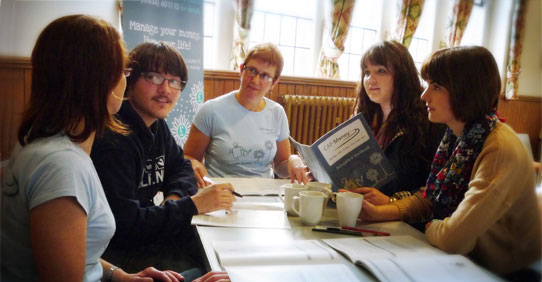 Is CAP Money for me?
Does the fact that its run by a church mean it is only for Christians?
No – the CAP Money course is designed to help anyone regardless of their religious belief.
Do I have to pay?
No – the course is completely free.
I have a variable income can the course help me smooth that out?
The basic course is designed for those with a regular income, however there are additional materials and resources available online for those who are self employed or a university student.
I am worried I have debt issues can the course help me?
The course is designed to be applicable to all financial situations. If you do find at the end of the course you are not able to make your budget balance then there is an option for additional support through CAP Money Plus. For further details on CAP Money Plus see the CAP Website or contact our CAP Debt Centre in Hexham.
Do I need access to the internet?
It is not mandatory, if you want to access CAP Money plus you will need regular access to the internet. You will get the most out of the course if you have an internet connection.
What does CAP Money teach?
CAP Money is a three session course that features DVD presentations by John Kirkby, CAP's Founder and International Director and Matt Barlow CAP's UK Chief Executive.
Hexham Community Church has now run many CAP Money courses. These course are run by trained money coaches and run over three evenings. They are provided free of charge and available for anyone who wants to get more control over their finances.
Comments from people who have recently completed the course :-
" Before the CAP Money course I felt desperate about my finances, now I am feeling I am in control – not my cards"
"I felt out of control before doing this course, but now I feel more positive"
" Even though I am quite good at managing my money, using cash has helped me keep control. I have found the ideas useful and it has helped me fine tune my finances"
Next course starting:
Please watch our website for details of our next course. You can also see other available courses and book online by going to the CAP Money website
If you would like us to put on a CAP Money course at another location we are happy to discuss this with you – please phone the church 01434 601113.
Thanks, Catherine & Holly